"She makes the it look easy" by William Rotsaert
"She makes it look easy" by William Rotsaert
Acrylic on canvas, 30"x30"
The singing cowboys are practicing the dreaded "F Cord". One of the hardest to play smoothly or hold. They are flabbergasted to see a cowgirl making it " look easy" while on a bucking horse, splashing about, effortlessly crossing the muddy. " show off" creek, smiling, remaining spotless and dry.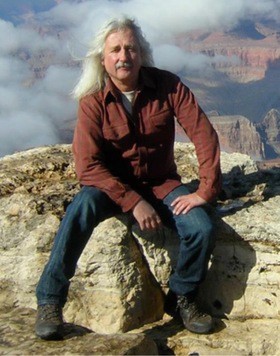 William's eclectic work spans a wide range of styles, with many of his creations harnessing the merger of old and new. His paintings take on the fluid aspects of life and time and vary greatly—from abstract to realism, often with a trace of humor. His commercial illustrations have appeared as covers for books, magazines and CDs, as well as in newspaper articles and other publications. His expansive portfolio includes brochures, cartoons, logos, billboards and other promotional materials.
Originally from Bruges, Belgium, William now lives in Santa Fe, New mexico, where the beauty of the landscape and people serve as a constant source of creativity and inspiration.