Deep Encounter
"Deep Encounter" by William Rotsaert
Acrylic on Board, size 16"x16"
A dangerous animal swam among sea anemones, squids and octopuses, corals and crustaceans, through kelp and seagrass, algae and seaweed.
Schools of sardines rushed swiftly out of sight.
When the deadly being reached the sunlight zone,
a shark stayed in the dark safety of the deep.
Encounter avoided, the big fish stayed alive. (WR)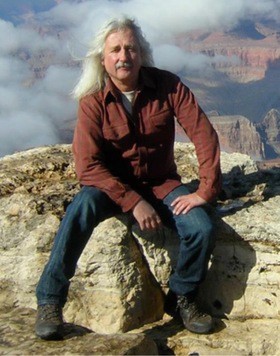 William's eclectic work spans a wide range of styles, with many of his creations harnessing the merger of old and new. His paintings take on the fluid aspects of life and time and vary greatly—from abstract to realism, often with a trace of humor. His commercial illustrations have appeared as covers for books, magazines and CDs, as well as in newspaper articles and other publications. His expansive portfolio includes brochures, cartoons, logos, billboards and other promotional materials.
Originally from Bruges, Belgium, William now lives in Santa Fe, New mexico, where the beauty of the landscape and people serve as a constant source of creativity and inspiration.