"Textured Tags Earrings" by Shasta Brooks
" Textured Tags Earring" by Shasta Brooks
Oxidized Silver Tags with an Anvil
Aged Texture Dangle from Handmade Modern French Wire
Earrings
Lightly Oxidized sterling earring with total drop 5 cm, sterling handmade wire.
"I prefer the ageless old pawn look of a fine silver patina over gold.  I choose cubic zirconia over diamonds – ethical to use, high impact, high quality, and wearable every single day. I use natural turquoise stones.  The lively teal and copper tinted variations of Kingman and Royston are my favorites."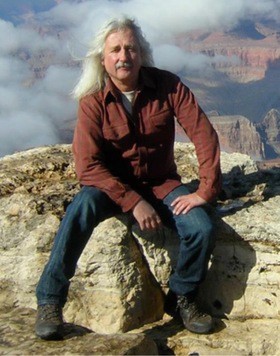 William's eclectic work spans a wide range of styles, with many of his creations harnessing the merger of old and new. His paintings take on the fluid aspects of life and time and vary greatly—from abstract to realism, often with a trace of humor. His commercial illustrations have appeared as covers for books, magazines and CDs, as well as in newspaper articles and other publications. His expansive portfolio includes brochures, cartoons, logos, billboards and other promotional materials.
Originally from Bruges, Belgium, William now lives in Santa Fe, New mexico, where the beauty of the landscape and people serve as a constant source of creativity and inspiration.