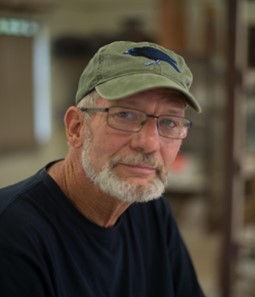 I have always loved throwing pots and have concentrated on large, stretched forms for many years.
I throw large cylinders and let them spin on the potter's wheel for hours, stretching them as the clay dries.
This method came about because I am a ceramics teacher, and I needed a way to keep working and teaching at the same time.
I am always pushing myself to make the thinnest and most difficult forms I can to the point of losing them.
You have to push your work to the point of failure in order to get to the next level.
There is much to be learned from failure.
The Raku firing process fascinates me because of its uncertainty and immediacy.
You never know exactly what you are going to get "you give your pot to the fire gods".
Once the pot is fired it's over; you are only as good as your last piece.