Connection II by Daniela Matchael
"Connection II" by Daniela Matchael
Acrylic on Canvas
20x20x1 in
Daniela quotes:
Inspired by areal views of the Midwestern United States and the shapes formed by crops and
irrigation pivots, this series of paintings focuses on the movement patterns of nutrition,
energy and communication. It is as much of a search for understanding the patterns that
connect people to each other, as it is a search to understand how what happens within us
mimics the outside. In the end, the part belongs to the whole as much as the whole needs the
parts.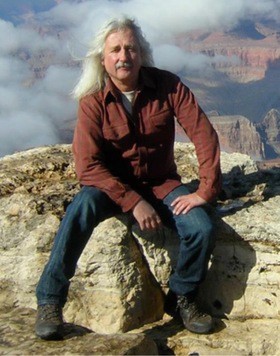 William's eclectic work spans a wide range of styles, with many of his creations harnessing the merger of old and new. His paintings take on the fluid aspects of life and time and vary greatly—from abstract to realism, often with a trace of humor. His commercial illustrations have appeared as covers for books, magazines and CDs, as well as in newspaper articles and other publications. His expansive portfolio includes brochures, cartoons, logos, billboards and other promotional materials.
Originally from Bruges, Belgium, William now lives in Santa Fe, New mexico, where the beauty of the landscape and people serve as a constant source of creativity and inspiration.