"Sage Desert" Chili Rose bracelet by Adonnah Langer
"Spring Tula"  Chili Rose Classic Beaded Bracelet by Adonnah Langer
Size 6 1/2" length + 1" extension  by 7/16" wide
Sterling silver clasp with heart shape design. Bracelet is woven with a fine silk thread using the highest quality Czech fire polish beads and the best Japanese seed beads. Sterling extension chain with charm.
 Chili Rose classic adjustable bracelet. Great for stacking with your favorite bracelet collection.
The art that shows the relationship between the color and textures, sizes, and the finish of the beads.
This bracelet is exclusively hand made by Adonnah Langer "one of a kind" in Santa Fe, NM
New Mexico True Certified Product.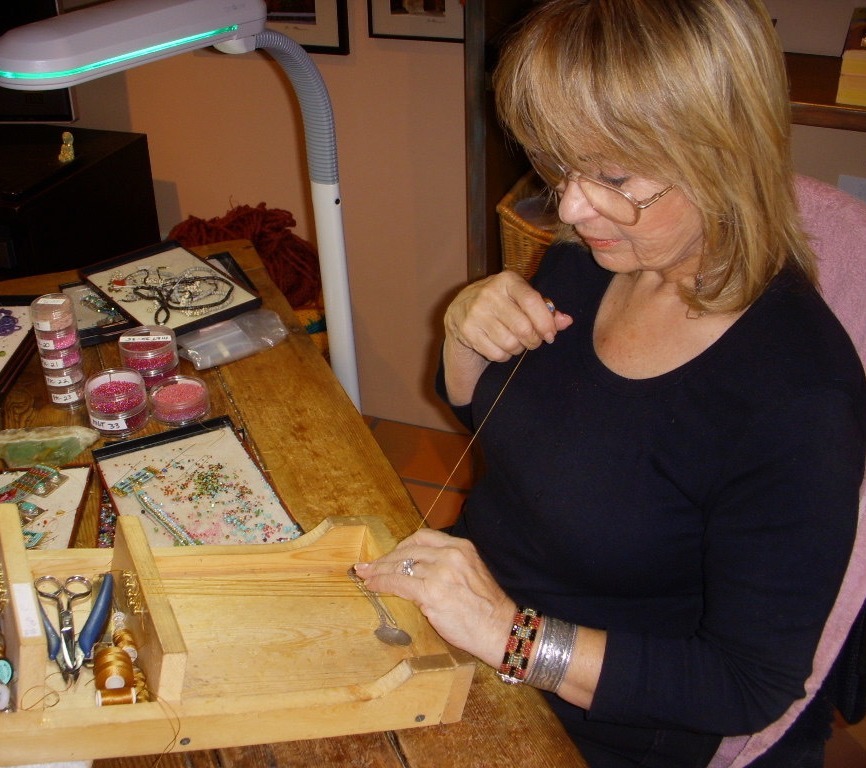 Acclaimed artist, jewelry designer, author, therapist and journey guide.
"I was deeply involved in shamanic practices and Jungian therapy. My designs come from inner reflection."
Presently living in Santa Fe, NM and inspired by the resonance of the high desert, finding her way into writing, hand painting meditation bowls, Adonnah continues to love making unique jewelry for the many Chili Rose Beadz Collectors since 1989.
Chili Rose BEADZ was born of passion and an obsession with beads and love of the Southwest sensibility. Combining Cowgirl and Hollywood glamour, Adonnah created a modern style of beaded jewelry.
 "The art is in the relationship between color, texture, size and the finish of the beads". 
Chili Rose Meditation bowls.
Each bowl is a hand painted "One-of-a-kind" expression of the complexity of life, love and our spiritual journey. They reflect our perfect imperfections and how deep and complete we are. "I know when you touch the bowl you can feel the love it holds."
Certified by New Mexico Tourism Department"New Mexico true".