"Sisters Talent inlay pendant" by Jennifer and Stephanie Medina
"Sterling inlay pendant" by Jennifer Medina and Stephanie Medina
Jennifer and Stephanie combined their talent.  This beautiful pendant shows the expertise of both artists.
Inlay with Kingman Turquoise, Jet, Apple Coral, Rainbow Calcilica and Mother of Pearl set in sterling bezel
Hand made by Jennifer Medina and Stephanie Medina
Size is 1 3/4" total length with 1 1/4" width, shiny finish.
bail is 1/4" wide.
Award winning artists recognized at the Phoenix Heard Museum Indian show and Santa Fe Indian Market.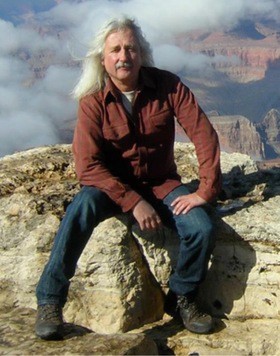 William's eclectic work spans a wide range of styles, with many of his creations harnessing the merger of old and new. His paintings take on the fluid aspects of life and time and vary greatly—from abstract to realism, often with a trace of humor. His commercial illustrations have appeared as covers for books, magazines and CDs, as well as in newspaper articles and other publications. His expansive portfolio includes brochures, cartoons, logos, billboards and other promotional materials.
Originally from Bruges, Belgium, William now lives in Santa Fe, New mexico, where the beauty of the landscape and people serve as a constant source of creativity and inspiration.