Female & Male Torsos
"Female & Male Torsos" Bronze,  Sculptures by George Cappannelli
This set of female and male torsos modeled originally in clay in the classical tradition speaks to George of the beauty and power of the physical form we wear during our time on this physical plane.
Cast using the lost wax method, these two complimentary solid bronze figures capture for George an essential aspect of the feminine with her arched back, proudly exposed breasts and twisting pelvis while her mail partner is in stride with all of his strength and boldness
Each piece is 5" high and 4" wide and in solid bronze. Priced as pair.
Signed & One of A Limited Editions of Twenty on Base
Individual pieces $ 1540 each
Delivery approximately 8 weeks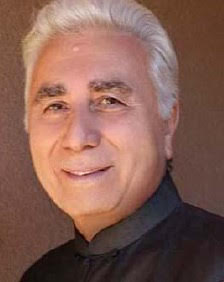 As a sculptor, George Cappannelli celebrates his search for harmony and greater awareness and the Great Mystery that is life.
Choosing to avoid the use of machines and mass production techniques favored by some of his contemporaries, he has undertaken a journey to rediscover the purity and honesty of art carved and modeled by hand. As a result, his art represents his own search for meaning discovered within rather than imposed upon the stone and wood he carves and the clays, waxes and plasters he models. Neither form without feeling nor intellectual conceits detached from the human experience will be found in his work. Instead one can discern strongly expressed and intimately experienced images that emerge from his love for the journey as well as for the media he explores.
His work is included in a number of private and public collections and has been recognized with a number of prizes, awards and grants. He studied with Jose DeCreeft, Sidney Simon and Gustav Rehberger at the Art Students League in New York. He has also executed a number of private and public commissions. George is also an award-winning writer and producer/director. His work has received 9 national book awards including a Gold Nautilus and film and television work has received International Film & Television Awards, Two Special Category Emmy Awards and most recently, a 2020 Telly Award.