Bound Woman
"Bound Woman" French Limestone,  Sculpture by George Cappannelli
To the direct carver wood or stone is precious and a living thing. It is not to be hacked off and disposed of simply to impose on the original block and image preconceived by the mind. Instead one of the rules George follows in his art is to seek to discover the form within the block that will utilize the greatest amount of the original stone.
The original block in this case began as twice the current "30" height of Bound Woman, and approximately 9.5" in width and depth. a moment of impatience and frustration caused George to turn the wheeled base on which it was standing too quickly and he could tell immediately from the look on the face of his studio guest that something was wrong. Turning quickly back toward the stone he was too late to prevent it from falling from the base and fracturing in two on the studio's cement floor.
Ashamed and troubled, it took a few months to face his crime, but eventually he was moved to overcome his guilt and to carve two pieces from the original stone.
Bound Women is one of them and he treasures it for the reason that it reminds him of his role as a servant of his art and of the preciousness of the living material he works with.
Bronze copy $ 8,400, Signed & One of a Limited Edition of Five
Delivery will take approximately 8 weeks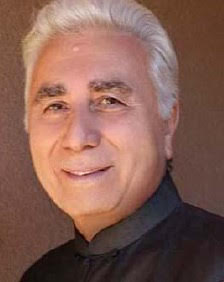 As a sculptor, George Cappannelli celebrates his search for harmony and greater awareness and the Great Mystery that is life.
Choosing to avoid the use of machines and mass production techniques favored by some of his contemporaries, he has undertaken a journey to rediscover the purity and honesty of art carved and modeled by hand. As a result, his art represents his own search for meaning discovered within rather than imposed upon the stone and wood he carves and the clays, waxes and plasters he models. Neither form without feeling nor intellectual conceits detached from the human experience will be found in his work. Instead one can discern strongly expressed and intimately experienced images that emerge from his love for the journey as well as for the media he explores.
His work is included in a number of private and public collections and has been recognized with a number of prizes, awards and grants. He studied with Jose DeCreeft, Sidney Simon and Gustav Rehberger at the Art Students League in New York. He has also executed a number of private and public commissions. George is also an award-winning writer and producer/director. His work has received 9 national book awards including a Gold Nautilus and film and television work has received International Film & Television Awards, Two Special Category Emmy Awards and most recently, a 2020 Telly Award.